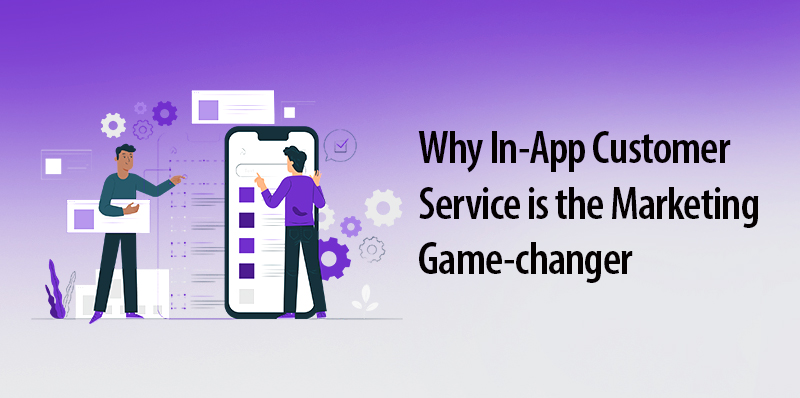 Customer is the king! Well, you must have heard that line several times when working towards your company goals. There are diverse service offerings in the market. There is no single industry where one company has its monopoly. So how do you stay relevant in such a competitive landscape? How do you make a sale and ensure that you retain that customer for days to come? This may not come as a surprise to you but customer service is the real deal here.
Customer service need not be an overhead cost for the company. In fact, with the right tools and a customer-centric approach, you can turn it into a sustainable revenue generator. Acquiring clients is one of the most important parts of a business. But the true success lies in the way you devise correct methods to retain them. In-app customer service could lead you to that perfect pathway where you are in control of your customer success journey while building a more trustworthy relationship.
In-app Customer Service as Focal Point of Customer Satisfaction
According to Hubspot's research, around 93% of customers said they are more likely to make repeat purchases when they receive outstanding customer service. Remember that when a customer comes to you for a query, they are already in distress about a specific issue. Do not let that take an ugly turn by making the issue a company versus customer one. Reassurance and accountability for the issue at hand is the primary step toward customer satisfaction. But how can in-app customer service help in this case?
The first advantage of approaching an app-based strategy is that you get your customer's attention and keep them engaged with your brand through your in-house app.
Once they started downloading the application, they are more likely to build a more strong connection to the voice of the brand. This is the most crucial step in building brand loyalty.
Next up, the app will provide them access to customer service 24/7, irrespective of their location. Therefore the ease of accessibility to your customer service will bring you a step closer to winning over the hearts of your customer.
Ramp up Team Efficiency
Logistically, getting in-app customer service is a great choice. Your team can save a lot of valuable time and effort since application-based systems help them to access customer data securely.
Customers do not like their calls getting transferred from one department to the other in search of a proper solution. An app-based strategy will help them address all diverse issues from one point of contact.
These practices in turn improve the efficiency of the entire customer service ecosystem in your organization. The data is already verified, making it useful for the customer service team to address the issues in a much shorter period.
Harnessing the Power of Automation
Understand the different issues faced by your customer before taking a step forward. When you have enough data ready from your end, automation technology will take care of the rest. Here are the things you should look into:
Customer Journey: Understand the different steps of your customer's journey when they come to your app for a possible resolution. Each starting point of a customer's journey will lead to a different path of solution. Automation can help give you the exact beginning pain point of a customer.
Response Management: Once you have identified the different starting points, automation can help in making out the most efficient pathway for the resolution journey. Be it account management or payment issues, each problem will lead to a methodical solution.
Chatbot Engagement: AI-powered chatbots are excellent partners in getting your in-app customer service right. However, make sure that you choose the kind of chatbot that truly understands a customer's pain point and offers a seamless self-service option.
Apart from these target-specific issues, providing troubleshooting documents and FAQs within the app could be a great way to cater to your customer's needs. Self-service options could enable the customers to take control of the situation and solve the issue without interacting with others.
Overall, providing in-app customer service will let you have control over your customer's problem resolution journey. It, in turn, will build trust, drive engagement, and ensure customers keep coming back to you.
Are you thinking about where to start with your app development? Get a Quote from MindBees to develop customized apps for Android and iPhone users. Build an efficient marketing strategy and let MindBees develop the app to achieve those goals.