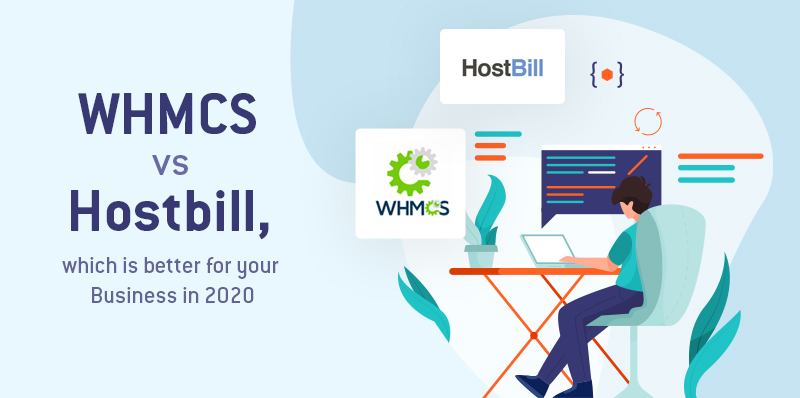 If you're running a business in 2020 and still using manual billing, you are doing it wrong. You could save your company hundreds of hours of crucial time which could be used for profitmaking endeavors otherwise. All you need to do is, switch to automated billing. When you automate your business billing, you can gather important insight into your business performance. Automated recurring billing system plans can provide access to metrics such as monthly recurring revenue, customer lifetime value, credit card decline rates reported by customers and so on. You can then use this information wisely to chart future growth paths for your business to concentrate on. Moreover, businesses can achieve PCI compliance far more easily as all of the rules and regulations governing customer credit card data received is handled by the billing automation system.
Now the question is, among all of the billing automation services available online, which should you trust? WHMCS and Hostbill are two of the popular billing automation software in the market currently. Which among them should you go for? We provide a comparative analysis of both these billing automation services below.
WHMCS
WHMCS integration helps your business oversee client management, billing and support services. It allows you to control every stage of integration from signing up to the final termination. When you choose to use WHMCS theme integration, you can use a powerful payment automation tool and also customize it according to your preferences. It provides a 30-day money-back guarantee for all licensing that you apply for. There are multiple billing options made available to your business and in-built analytical tools that assess the billing performance for each. WHMCS WordPress integration is also available, so you can easily configure it and make a profit off your blog/website. The payment platform supports multi-currency billing.
Hostbill
Hostbill integration is a holistic business automation solution. If you choose Hostbill themes integration or Hostbill payment gateways, you are streamlining tasks such as client acquisition, CS management, billing and service provisioning. Hostbill trumps over other business and payment automation services due to its constant feature updates. It is simple yet feature-rich and allows you to concentrate more on building your business instead of having to bother about these business processes. You can choose from a gamut of Hostbill templates to match your existing business design. Hostbill WordPress services can be used by web entrepreneurs and individuals looking to make a profit from their online content. When you use Hostbill, you can enjoy multi-channel support starting from email to Live Chat.
Conclusion
The decision to choose either WHMCS or Hostbill for billing automation will depend on the individual needs of your business. WHMCS scores over Hostbill in Reseller Hosting. However, Hostbill is a more expensive initial purchase. Of course, you could also sample other billing automation platforms available such as Blesta, ClientExec and the like.
If you must make your choice between Hostbill and WHMCS, you are recommended to pick Hostbill if your business prefers a more customizable automation platform. Hostbill enables business users with more custom templates that can seamlessly fit into their existing design. Also, it is reputed for its continuous bug fixes and software updates. WHMCS is not as frequent with feature updates.
WHMCS provides convenient business and billing automation and if you want to spend less to sign up for billing automation service, you should choose it over Hostbill.
MindBees has you covered! We are a Web design and Development Company provides businesses with a host of design and development solutions for an affordable price. If you wish to automate your business billing processes, you can choose from our Basic or Premium WHMCS integration and Hostbill integration packages. While the Basic package is best suited for startups and offers you the primary privileges of Hostbill integration or WHMCS integration, the Premium package delivers you all possible benefits you could expect from such automated billing service integration. If you are in-charge of a reputable brand or mid-sized company, we recommend you opt for our Premium Hostbill integration and WHMCS integration services. It will extend advanced custom features that will help consolidate your brand's position in the market.
Don't let manual billing hamper your business growth in 2020. Choose from one of these automated billing services instead!