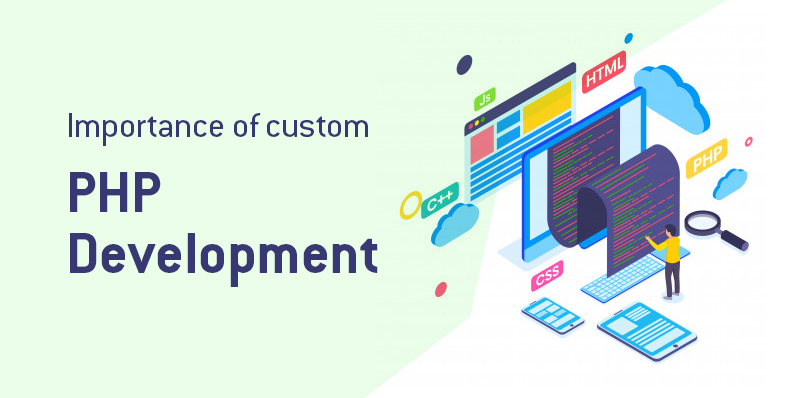 PHP development has become a favored technology for anyone who wishes to operate a website or interface over the internet. While many companies may explain the advantages of PHP to you, they lack the insight to connect these advantages to immediate customer benefits. On the other hand, you may wonder, what is custom PHP development?
It is simply custom PHP programming which is relevant to your requirements. It is simple for the customer, because of our people and processes. With 12 years of experience, credible results for 450+ clients spanning 40+ countries and an enviable success rate of 700+ projects, Mindbees can deliver, not just a website, but an empowering solution for your business.
At Mindbees, our bespoke PHP development service and custom PHP development distinguish us from the other PHP development companies in India. Don't take our word for it. Before you hire a dedicated PHP developer, assess the understanding of a custom PHP development company on the basis of their understanding of you.
1. Open Source Language: As an open-source language, implemented at the Server side, PHP allows you the freedom to manage and update your website seamlessly, without critical dependencies on company-owned source codes or website developers and managers. In simple words, you are not at anyone's mercy and you can transfer the responsibility of your website to the most capable personnel without any software costs. Another advantage of being Open source is the ability of programmers to update the source code along with the rapid transition in technology. In PHP development, everything moves with the times while creating websites of the future.
2. Platform Independence: PHP also allows the freedom to be operable across multiple platforms. PHP can ensure the desired functions and UX for any and every operating system i.e. Mac OS, Windows, Linux, and UNIX. When these platforms come up with a new version, PHP responds with a compatible code in no time, whatsoever. It is not dependent on any proprietary software.
3. Control and Efficiency: If you know to code, you can access the open-source language of PHP without spending a dime. If you are not tech-savvy, you can still gain some control over your website's administration by using popular PHP frameworks and structures like Code Igniter, Symfony, Flight, Kohana, Zend, etc. Furthermore, PHP also offers flexible connectivity with various databases, enhancing the efficiency of your website.
4. Cost-effective: Free for use, cheap to maintain and very budget-friendly to operate, PHP grants the user freedom, independence and seamless control over every aspect of your software. PHP is a win-win in terms of initial investment as well as recurring costs. Furthermore, there is no foreseeable reason that may make PHP expensive for many years to come.
5. Easy Maintenance: Again, open-sourcing makes the maintenance of PHP extremely easy. You may remember the time when big corporates had the power to hold the user at money and demand unreasonable payments for the smallest maintenance tasks. PHP has changed the dynamics in favor of the consumer.
6. Supports multiple Frameworks: Whether you use Magento over the Zend framework or IDE Codelobster, PHP can adapt to your Framework of choice and add to your functional capabilities. In a highly competitive market, this adaptability can help your business modify your website at any instance of changes in business tactics and strategy.
PHP Programming Benefits for Business
1. Minimal Development Cost involved: PHP isn't just about saving costs; it is about minimizing development costs and maximizing savings. You won't have to worry about losing investments to poor outcomes. Furthermore, you can get PHP developed websites customized and corrected as many times as you want. Our expert PHP developers shall make sure that this customization is not an unplanned trial and error, but a swift implementation of the code at no extra cost.
2. Multi-Platform Compatibility: Users are aware, companies are competitive and platforms are growing in numbers, versions, and capabilities. This dynamism of the market can only be serviced by the multi-platform capability of PHP. PHP development can fuse all compatibilities into one website and enable full feature access from any device around the world.
3. Expansion of Website Functionalities: Flexibility and compatibility also allow PHP to incorporate new features and functionalities. Moreover, this incorporation is efficient and swift. Hence, your business can incorporate a competitive advantage at lightning speed and beat the market as well as the competition.
Our Packages:
Start-Up Package: This package is Tailor-made for start-ups and new enterprises with a tight budget. It includes:
10-page website
Payment gateway integration
Google map integration
Free Maintenance & Support for 1 week
Custom CMS
Unlimited user addition
Custom interface design
Web Services Integration
MySQL Database
Newsletter subscription
Premium Package: This package is ideal for all your business needs. It includes:
20-page website
Web Services Integration
Website setup interface
SEO friendly
Choice of Development in Laravel framework
Choice of E-commerce Integration
Social media integration
Payment gateway integration
Multilingual integration
Google map integration
Custom interface design
Free Maintenance & Support for 2 weeks
Custom CMS
Unlimited user addition
Chat Live System
MySQL Database
Website and database backup
Newsletter subscription
Comprehensive reports
Google Analytics
Our PHP professionals are immensely experienced and clenches top-notch design and coding practices to deliver unique, SEO friendly and feature-rich custom PHP solutions to trigger your business growth. So what are you waiting for? Start your Custom PHP web site development today.