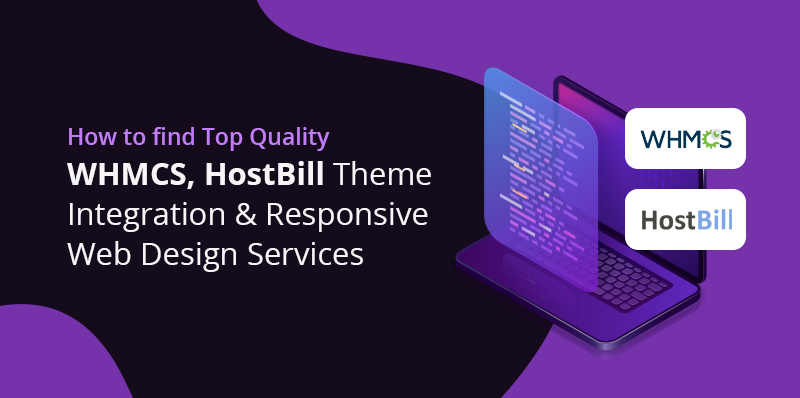 Best WHMCS, Hostbill Themes can help a business save valuable time and money. The workflow of the company becomes smooth and traceable to the administration. It also integrates required features in the Business website.
Hostbill Integration Services
Now hosting a B2B transaction is easier and faster with Hostbill integration Service. There are several routine tasks that a business needs to conduct, such as Client Acquisition, Billing, Service Provisioning, support, and customer management.
The software is very easy to use and filled with features that take care of the daily transactions of a hosting business. The company can now focus on the brand-building process.
Hostbill packages
Mindbees provides one of the high-quality Hostbill Integration with unmatched user experience at a highly feasible price. They have two packages:
Start-Up Packages
Built for start-up businesses and Organizations, the package costs only $99. It contains all the essential features and support that any b2b hosting company in the USA needs.
Integrate Matched templates from client's existing sites
Integrate cart template matching to an existing website.
Matching Header/footers.
Fast delivery period of only 1-3 days.
Premium Package
The package is designed especially for pre-existing brands and world-class organizations. The package costs $499 only and has many special features and services that a large-scale industry often needs.
The client gets a custom area template design.
Unique cart template design.
Matching Header and footer.
Its Unique high responsive designs will increase site traffic.
Matching font and color.
Configuration of 6 products and services
Email template
6 days delivery
Advantages of Hostbill Integration
Developed only for hosting, which makes the software easier to understand.
The process is quick, and the daily updates solve the users' requirements, making it highly flexible.
There is an inbuilt monitor tool to keep a check on each transaction.
Simple and user-friendly UI for experience faster.
Multiple billing options.
Multiple ways to reach support: email, tickets, Live chat.
WHMCS Integration Services
The service works on maintaining customer relationships by automating customer issues. If a customer faces account suspension problems, it can lose faith in the brand. WHMCS takes care of these consumer issues through automated billing and provides a system with power tools, help desks, and data analysis to manage customers more efficiently.
Through WHMCS services, experience efficient and automated customer management and billing. Achieve customer satisfaction levels and build a sustaining Goodwill.
WHMCS Packages
Mindbees have two exotic plans for the hosting businesses:
Start-Up Packages
As the name suggests, it is designed especially for emerging companies at a price of only $99. The package includes:
Installation and up-gradation of Core Software
Integrate Matched templates from the client's existing sites.
Integrate matching cart template.
Fast 3 days delivery
Basic Package
Made especially for world-scale companies, it has many additional and exceptional features that can help the business with better-automated support.
Installation and up-gradation of Core Software
Multiple add-on module integrations
Integrate Matched templates from the client's existing sites.
Integrate cart template matching to an existing website.
Original Custom design of Cart Template.
5 days delivery.
Advantages of WHMCS Integration
The company experiences complete billing automation with detailed transaction reports.
The business gets unique custom Modules and themes.
Get Multiple billing options.
Integrated Analytical Tools.
Personalized Helpdesk Support for customer issues.
Easily configurable software.
A secure Multi-currency billing system lets the user bill in more than one currency.
Why Choose Mindbees Responsive Website Design Services?
Expert Web Hosting
Mindbees have a deep understanding of the web hosting industry. Their experience helps them predict the market trend and make necessary changes with the emerging requirements of the market.
It helps them to develop long-lasting WHMCS solutions and optimized Hostbill software.
Neat Execution
Mindbees have an agile project management method that ensures that each milestone is reached within the given time. The world-class developers assure that clients receive the best-tailored solutions.
Affordability
Mindbees ensures that the clients are charged only for the service they opt for and have kept a reasonable cost for each service.
Security
Security of the customer details is the top priority of Mindbees and always keeps the server in check to catch any security threat before entering the server. The team of security performs routine security checks and ensures the necessary mitigation steps are applied.
OneTime Solution
A non-professional can make a clumsy Hostbill installation, resulting in malfunction, security issues, and poor customer feedback. But with Mindbees, the businesses get proper professional guidance and assistance to set up according to your requirements.
Unmatched Support
Every software needs periodic maintenance. But not all providers can give easy access, instant solutions, and quality user support. Experts in Mindbees have ample knowledge about the technology and will provide 24×7 support to every client unbiased. We are available to discuss your specific project requirements in greater detail and find a solution that suits you and your business. Contact us now or Request a quote