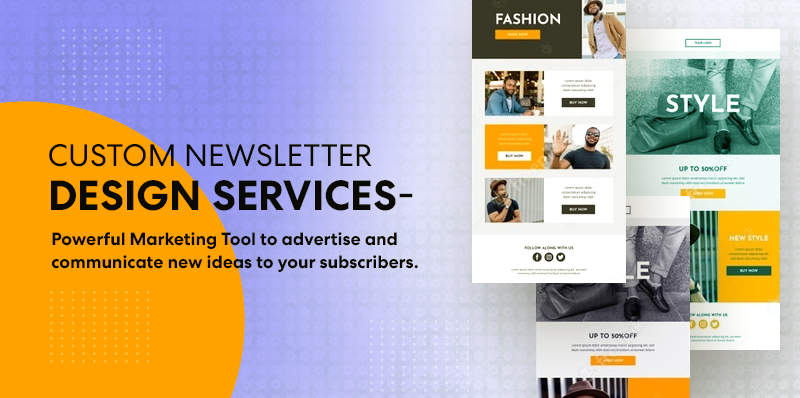 Introduction
Newsletter is a great way to connect and communicate with your readers, internally as well as externally. They are applied as a content marketing tool to keep the clients, customers and employees informed about the latest developments within an organization. Summarizing news, products, services, and market insights into one, digitally customized newsletters amplify the business objective and capture the interest of customers.
1. Unify Your Newsletter Template Design with Your Brand Image
Normally, when a formal communication is required to be floated across an organization, an email becomes the primary tool. Several firms prefer emails to present information and circulate the new data among employees, clients and also, covering the investors. However, often email communications limit the graphical presentation of data and information to a great extent. On the other hand, a newsletter provides the privilege to be descriptive and gives freedom for a comprehensive presentation of the latest happenings.
In addition to that, newsletters when customized can add value to the brand image of the firm through subtle hints. The scope to include branding themes and make the communication reader-specific gives customized promotional products an edge over all other forms of communication. A firm can advertise on a newsletter far more creatively. Plus, adding specific brand tones dedicatedly in a newsletter makes more sense and looks more engaging to viewers.
2. Tactically feature promotional offers and Deals
Newsletters contain a variety of things. A daily newsletter can be a one-pager, while weekly newsletters can be extended to 5 pages. Monthly newsletter often goes beyond or up to 8 pages. The need for sending a newsletter is more or less same through businesses yet, a well-defined marketing strategy for campaigns reaps more rewards. There are firms which float custom newsletters and have more than one format in place for different viewer segments. Special focus is often given to newsletters which reach clients and investors. They are counted as formal pieces of communication and should be customized to perfection.
Although, some custom newsletters are dedicatedly published for featuring promotions, offers and deals to targeted customers. More often, such newsletters are developed to put focus on the latest product, offers and deals by the brand. Exciting rewards and loyalty programs also feature alongside new product announcements. Newsletters targeting customers to know or opt for products also help in adding value to sales efforts of a firm.
3. Generate Leads, Sell Products and Services
As mentioned above, newsletters are also an efficient tool for content marketing and for giving mileage to reach out programs. Marketing firms make use of newsletter subscriptions for reaching out to customers. These subscriptions work as good indicators of customer's interest in the brand or product. This, in turn, helps the business pitch new products and services. Customers who subscribe to the newsletter often don't mind knowing about the latest products and features of the related brand. The drip marketing around products and services thus, helps in generating some considerable numbers of leads for businesses.
4. Why Choose Mindbees Emailer Design Services
Email marketing has been called a redundant form of communication, lately. Contrary to this belief, there has been a constant increase in popularity of email newsletter marketing which are less intrusive in nature. Also, they can be accessed across multiple devices and provide decent conversions too. Email marketing also helps in increasing traffic to websites and serves as a form of capturing customer interest. Therefore, to include email newsletter to your marketing efforts is worth implementing.
If you are in the process of strategizing your firm's business marketing and promotion strategy then do take the help of a custom newsletter design to build engagement. Firms like Mindbees have the experience and expertise to create digital email newsletter designs, which can help in promoting your brand, build base, create product awareness and generate leads too. Mindbees offers attractive and cost-efficient newsletter design pricing packages that also do not affect your overall marketing costs and budget. The packages available are suitable for different business types.
If you are a startup or small business starting off activities with a controlled marketing and promotion budget then take a startup package with great benefits.
You can take advantage of features such as:
One custom newsletter
Mailer lite email marketing software
Mobile customized emails
One landing page template
Production and deployment features
Contact import
Reports extraction and analysis
If your business has an established brand name, fair customer base and reputed clientele, then Mindbees offers a premium package to enhance your branding capacities. You can make use of some exceptional features for custom newsletter design services.
Some features available with Mindbees premium package are:
Two custom newsletter
Email marketing software
Mobile customized emails
Two landing page template
Production and deployment features
Contact import
Reports extraction and analysis
To know more about the email newsletter packages, please do Request a Quote.