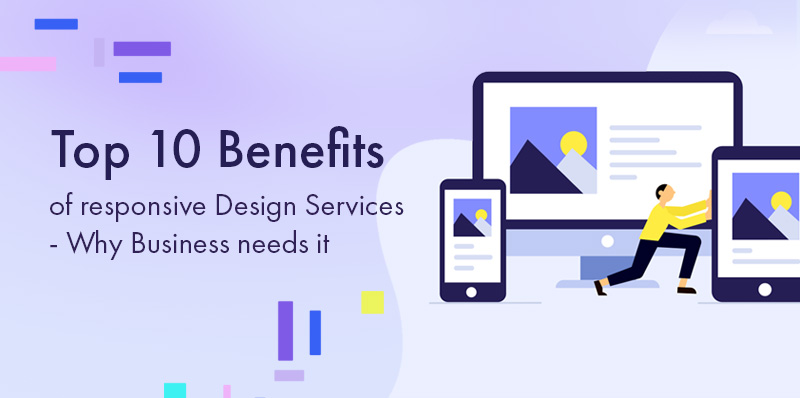 Gone are the days where people sat before the computer screen or kept on resizing or scrolling the webpages on the mobile screen. With the advent of advanced smartphones and affordable data packages, portable devices bring the entire online world to your palms. It offers unlimited mobility and makes mobile devices, especially smartphones, the primary way of internet access.
A website that renders smoothly without any performance glitch on all screen sizes alone can impress these customers. It makes responsive websites the new normalcy of website development.
Apart from screen adaptation, it gives many other benefits too. Such as
1. Google Recommended Design
Google enjoys a monopoly in the search engine market and maintains its reputation through high-quality search results. The ranking algorithm evaluates several parameters such as content quality, relevance, accessibility, website speed and user engagement levels.
Since responsive designs help the user to access and explore the websites through mobile phones in a relaxed way, it improves user engagement levels. There are no requirements for separate sites for desktop, tablets and mobiles. It eliminates the need to switch between versions when you change the device, and it improves the site loading speed. Such a one fits all approach, avoids content duplication, an SEO ranking parameter, and improves your search visibility.
All these features make responsive designs the blue-eyed lad of search engines. Google encourages the adaptation of responsive websites by treating it as a ranking signal for good SEO.
2. Deliver Excellent UX
Nobody likes to keep on zooming, Shrinking and pinching on the screen to complete the article, which he started reading the previous night at his desktop. If the design provides a consistent experience on different gadgets, it will make the customer privileged and happy.
Unified user experience builds customer confidence in the brand, and it improves conversion rates.
3. Faster Web pages & improved SEO
Each day we are bombarded with a massive volume of data such as social media posts, marketing materials, campaign and much more. Such a near abusive nature like data flow has significantly reduced our attention span, and it changed our perceptions drastically.
If your website takes longer to load than your competitor, it is almost sure that you are going to lose the customer forever.
A fast loading website encourages the user to explore its features and improves user engagement levels. Similarly, people prefer to backlink their sites with easily accessible, useful and high-quality websites. A responsive website loads faster and has better accessibility across different devices. It gives better chances for such websites to gain high backlinks, and it improves the SEO ranking as well.
4. Lower bounce rates
Converting visitors to customers through highly engaging design and functionalities is the primary purpose of any website.
Even if the home page is exceptional, poor navigation or confusing content can deflect customer enthusiasm and force them to leave the page mid-way. Such incomplete transactions create high bounce rates, and it causes severe repercussions on the website SEO ranks.
A responsive website with its high screen adaptability and improved user interface design reduces the bounce rate significantly. A good SEO improves your brand visibility and helps you to gain new customers efficiently.
5. Save Money on Mobile development
Developing separate websites for desktop, tablets and mobile phones is an expensive deal. You have to spend too much money, time and resources for the creation and maintenance of multiple versions at the same site.
Responsive websites relieve you from all these chaotic messes and help you to save a lot as there is only one website to maintain. You can use these savings for more essential things such as marketing, infrastructure development and brand building activities to expand your business.
6. Higher conversion rates
Whatever be your business modalities or website design, the ultimate aim is to improve conversions. Responsive websites avoid redirections to device-specific sites and deliver full functionality on all screen sizes.
Such an uncluttered and clean design magnifies customer confidence in the brand's professionalism and prompts them to become regular customers without a second thought.
7. More traffic from mobile sources
With overwhelming mobile penetration, the primary source of digital sales has switched to mobile devices. People primarily use social media platforms as a source of information.
A properly executed digital marketing campaign can make you visible for millions across boundaries. Such a vast market, when coupled with the mobile-first approach of responsive websites, will create positive impacts on mobile traffic and conversions.
8. Best platform for online shopping sites
It's not easy to transfer money from your customer's pocket to your wallet. Every buying decision in the online world is a byproduct of cost considerations, product feature comparisons, competitor analysis and most importantly, reviews.
People tend to make such a contemplative process while they leisure. It means they would mainly use their portable devices than a more restrictive desktop or laptop.
If your website, due to its non-responsiveness, frequently annoys the user during the purchase process, then you are going to lose the game for sure.
9. Easy management and maintenance
Everything in the digital world changes quite rapidly from design to content and SEO elements. In the absence of responsive design, any change has to replicate in device-specific sites too and is a cumbersome process and the same is the case with vulnerability resolution as well.
A responsive website reduces all these unnecessary tasks and helps you to save resources for your business augmentation activities.
10. Stay ahead of the competition and build a reputation.
The flexibility of responsive design helps you to incorporate innovative features to your websites and makes you appear more professional. Such adaptations build customer confidence and help you to gain a competitive edge with a good reputation.
Responsive website development, let the leader do it.
Implementing futuristic solutions is part of our organisational DNA. We were the first adopters of a good number of innovative approaches, including responsive designs. Such initiatives cemented MindBees reputation as the most cost-efficient and high-quality software solution provider from India with an expanding clientele across the globe.
MindBees, with its great talents and ample experience in responsive development, ensure you the right solutions that work smoothly on all devices.