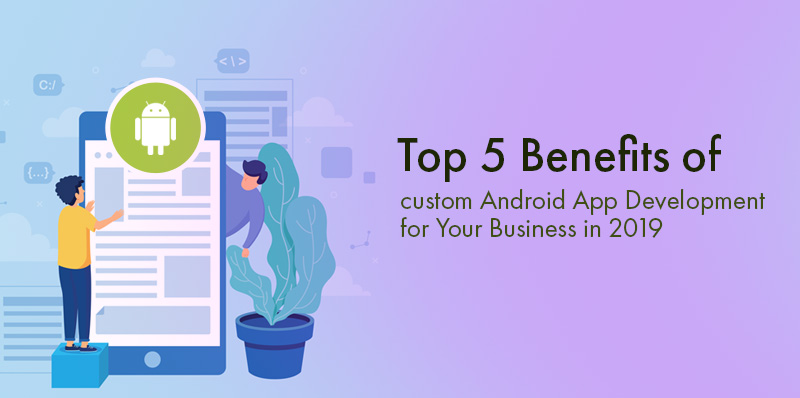 The exponentially growing mobile users are the most fertile ground for any form of business. A well-crafted mobile app can reach customers globally and can significantly boost your business growth.
With a market share of more than 80% and its platform-agnostic presence, Android is the undisputed leader of the mobile operating systems. Android is everywhere and is gaining popularity continuously, making Android App development a wise choice.
"When millions of apps are available in the play store, why should I invest money for a custom app for my business?"
It would be the first thought flashes through the mind of an entrepreneur when he plans to have an Android app for his business.
Undeniably, features such as faster deployment, efficient customization, and reduced upfront investments are irresistible for a majority. But to create an app that expresses your business persona in its true spirit is possible only through a custom developed mobile apps.
The top 5 advantages of moving with a custom android application development are :
1. Easy Customization
Each business strives to create an impression in its segment by establishing a unique identity. Copying your competitor will make you indistinguishable and will eventually make you irrelevant in the market.
Commonly available ready to use android apps contain the most generic features for the targeted market. Even with the best customization, you might not be able to ensure the seamless integration of your exclusive elements.
A set of generic, often unnecessary, features make the app quite clumsy and makes the customers unexcited.
In the case of a Custom Android app, you can design and carve it in line with your business philosophy. Such a highly customized solution imparts a feeling of entitlement for the end-users and converts them to passionate brand loyalists for your products.
Colour schema, Logos, fonts, etc. play a vital role in brand recognition. You can extend these features to your custom-developed app, and it will significantly enhance your brand recall values.
2. Open Source and High ROI
Android SDK is available free of cost and is an open-source development framework. It eliminates any recurring licensing fees and keeps costs under control.
The only cost bearing process in the Android app development process is testing and deployment. Due to the easy availability of android devices, you can test the app and gauge its performance in a real-time environment without massive spending on separate testing facilities.
Due to its wide popularity and open-source nature, Android development is a popular career choice for a large chunk of professionals. Such a broad availability of professionals with a diverse skill set enables the entrepreneur to develop innovative solutions without too much spending. You can use the saving on developmental expenses to beef up your resource for brand building activities. It will, in turn, generate more sales and improves your return on investments.
3. Custom Apps can save your Time and Money
Nobody knows your business and customers better than you. Most of the times, an off the shelf App has limitations to express your specialized services or brand identity the way you desire.
A custom-developed app will have the necessary options to fulfill your business interests and customer expectations at the highest possible levels.
You can incorporate particular features to collect customer data such as their preferences, reviews or feature requests in the most efficient and time-bound way. Apart from improving the product, your appetite to improve customer satisfaction will increase customer confidence and will make a positive impact on your business growth.
Scalability is one area where the majority of the ready to use mobile apps fail miserably.
The vendor makes the app to make it appealing to a vast population through rich features. Naturally, they will try to reduce the costs by adopting cost-cutting methods such as resource restrictions. But such limitations hamper your growth as the app fails to work when the resource usage exceeds the threshold values.
In the case of a custom android app, you develop it for your business, and hence you are at liberty to set the limits. It makes the app to scale the resource allocations as and when required without any performance issues.
There is a widespread impression that ready-made apps are less expensive than custom developed android apps. But it is not true always. Even though the advertised price for a mobile app might be attractive, there could be additional expenses such as licensing fees, installation costs and customization expenses of separate module adding.
Similarly, painting a Custom Android App as an overly expensive affair is incorrect. A custom app development gives you full control over the development process from design to execution. A vast range of talent for android development is available in the market. It gives you the proper environment to get the task executed by the right professionals within your budgetary constraints without any compromise.
4. Increased Business Security
When you use an external app for your business purpose, you are totally in dark about the quality of the code and the security measures they adopted. It creates a potential threat of data leakage and possible legal battles.
Building a custom app from scratch enables you to keep such vulnerabilities at bay through the implementation of industry best practices. It also allows you to resolve any threats at your discretion without waiting for the necessary patch from the application vendor.
The architecture of a custom app is not accessible publically. It gives it a high level of immunity from hacker attacks. Due to the popularity and access to the source code, the publically available apps are often a soft target of hackers.
When the customer has trust in the security of the environment, they tend to spend more time on the app and make purchases with improved confidence.
5. Efficient and Reliable Technical Support
The android platform gets new features and undergoes tremendous changes regularly to improve efficiency and security.
It means the app requires regular upkeeping to be relevant.
In case if your app vendor decides to discontinue the app, you have to either purchase a new app or continue with a vulnerable, inefficient app. The first approach will cost you dearly on purchase and training expenses. If you follow the second option, you are going to lose not just customers but your goodwill too.
By developing your application, you mitigate these elements by a proper development team. The well-documented development helps you to make the necessary modifications even with a new group. It not only makes you relevant but establishes you as a competent player in the domain and helps you to stand out from the competition.
How MindBees help you with your android app development requirements?
MindBees is a mobile solution provider which insists on developing cutting edge solutions for our clients. We move abreast with the technology, often much ahead of our competitors. Our proficiency in Android development and extensive experience in developing tens of thousands of Android mobile app makes us the best team to fulfill your Android App Development requirements.