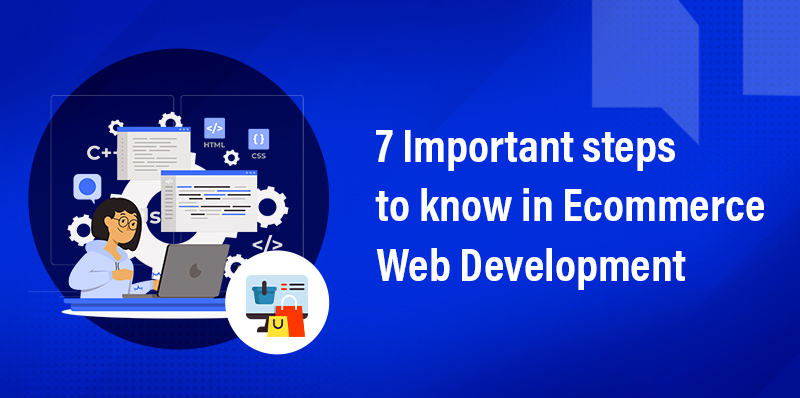 Two billion users globally buy things of their choice using online stores. In 2022, the global ecommerce market is estimated to be worth 5.5 trillion dollars according to the forecast. You can capitalize on this trend by developing an eCommerce website to sell your products online.
If you want to build an eCommerce website, you should first learn how the web development process works. We've broken the procedure down into seven parts to make it easier for you to understand.
7 Steps in Ecommerce Web Development
Identify the product/service and the customer
The first step is to choose the product or service you want to offer on the internet. The product must have a market, and there must be sufficient demand. You need to have expertise in the product so you can create a unique offering that customers want. Ideally, you should strive to provide a niche product that no one else does. If this isn't the case, you'll need to be clear about what makes your product unique in the marketplace.
After you've decided on a product, you'll need to figure out who your target market is. Who is going to buy your product? This is a question you need to answer. Learn about your customer's demographics, such as age, income level, education, gender, and so on. This is a critical stage that you can't afford to overlook.
Create a website design that matches your products
Your website's design, which includes the color scheme, background, and other elements, must correspond to your product items. For example, if your products are environmentally friendly, then a green background would be appropriate and self-explanatory. If you are into food products, then a yellow, purple, or green background would look great.
The colors you choose should be related to the product, and they must make the product images stand out and not overshadow it.
Choose the right eCommerce website development platform
It is very important to select the right platform to create your eCommerce website. The platform is what makes your website a web store allowing customers to make purchases and pay online. There are many platforms like WooCommerce, Shopify, Magento, etc. that you can consider.
Choose a platform that will allow you to scale up later. You should be able to integrate the platform with your ERP and CRM solutions. It must have a strong backend with an easy to manage interface. Integration with the payment gateway must be seamless. You must be able to customize the features to suit your specific requirements.
If developing an eCommerce website seems a tough job, you can consider working with a professional web development firm like MindBees. They use the latest technologies to create e-commerce solutions for clients. The advantages of working with MindBees are:
· They create responsive designs that work well on all devices and screen sizes.
· Their team of professionals is well-versed in eCommerce development.
· They make content management easy for users without the need to get into technicalities.
· MindBees gives a lot of importance to security ensuring the system is free from vulnerabilities.
· They help create a fast website that is optimized for the best performance.
· They offer comprehensive solutions so you can create a personalized web store for your customers.
Choose the right eCommerce website hosting platform
Choose a hosting platform keeping the following parameters in mind:
· It should be fast.
· Downtime must be minimal and time to restore the system must be quick.
· The platform must offer support services.
· You should be able to scale up operations as per your business needs.
· Look for PCI-DSS compliant servers for enhanced security.
Offer multiple payment options
You should be able to offer multiple payment options like a credit card, debit card, PayPal, Google Pay, Amazon Pay, etc. You may even want to consider cryptocurrency as an option (depending on market needs).
Decide shipment options and rates
Once a customer places the order, you need to ship it. You need to have a partner who can ship products for you and deliver them on time. Decide the shipping rates and be transparent with it to prevent customers from backing off at the last minute. Ideally, delivery should be free. If not, keep it reasonable and be open about it.
Create an effective marketing strategy
Once your eCommerce website is ready, you need to market it to attract customers. Create an effective strategy that includes offline and online methods. SEO, Email marketing, Social media marketing, Content marketing, Pay Per Click(PPC) advertising, and traditional ads are options to include in your strategy.